Our Book
In an easy-to-read and simple format, The Guru Investor book dissects the strategies of some of Wall Street's most successful investment gurus and teach readers how to weed through the all of the choices to find a strategy that works for them. The model portfolio system developed by John P. Reese and Jack Forehand, the book's authors, turns each guru strategy into an actionable system, addressing many of the common mistakes that doom individual investors to market underperformance. This book focuses on the principles behind the author's multi-guru approach, showing how investors can combine the proven strategies of these legendary "gurus" into a disciplined investing system that has significantly outperformed the market.
Gurus covered in the book are: Benjamin Graham; John Neff; David Dreman; Warren Buffett; Peter Lynch; Ken Fisher; Martin Zweig; James O'Shaughnessy; Joel Greenblatt; and Joseph Piotroski.
Click here to purchase "The Guru Investor: How to Beat the Market Using History's Best Investment Strategies".
Click here to read the book's reviews from readers on Amazon.com.
Authors: John P. Reese, Jack M. Forehand, CFA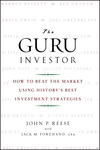 ——————
The Guru Investor Blog provides impersonal stock market and related information, and therefore, no consideration can or is made toward your financial circumstances. All material presented within is not to be regarded as investment advice, but for general informational purposes only.
Validea, the owner of this blog, is not registered as a securities broker-dealer or investment advisor either with the U.S. Securities and Exchange Commission or with any state securities regulatory authority. Validea is not responsible for trades executed by users of this site based on the information included herein. The information presented on this website does not represent a recommendation to buy or sell stocks or any financial instrument nor is it intended as an endorsement of any security or investment. The information on this website is generic by nature and is not personalized to the specific situation of any individual. The user therefore bears complete responsibility for their own investment research and should seek the advice of a qualified investment professional prior to making any investment decisions.
Performance results mentioned on this site do not reflect actual trading and is not necessarily indicative of future results. Individual stocks mentioned throughout this web site may be holdings in the managed portfolios of Validea Capital Management, a separate asset management firm founded by Validea.com founder John Reese.